Offline Desktop Application for Monitoring & Evaluation Managers
A Single User Administrator M&E MIS for Small NGOs or Freelance M&E Consultants.Quick to install & simple to use.
Download Now
Contact Us
Single User Desktop M&E Software at Affordable Cost

Report Builder
Dynamic Dashboard

Easy to Use Interface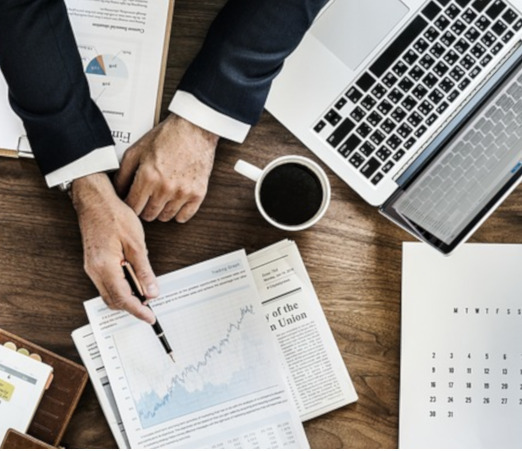 Build any report, anytime!
When your management and donors need unique and customized reports and ad hoc data analysis, M&E Desktop allows you to build your own reports very easily.

M&E Desktop is simple, intuitive and dynamic with on the fly filters and strong analytical engine.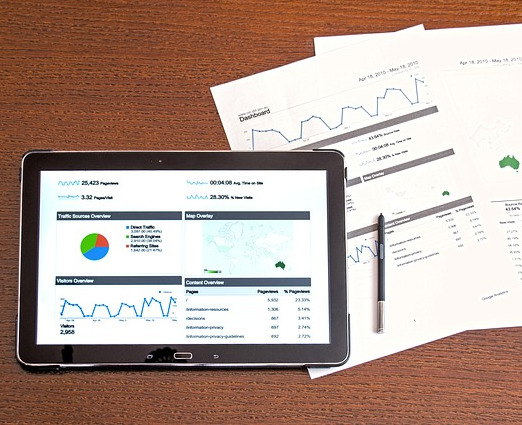 Impressive visual analysis.
Real time graphs, charts and traffic light panels for quick view of logframe and workplan status.

GIS maps for geographic representation of data.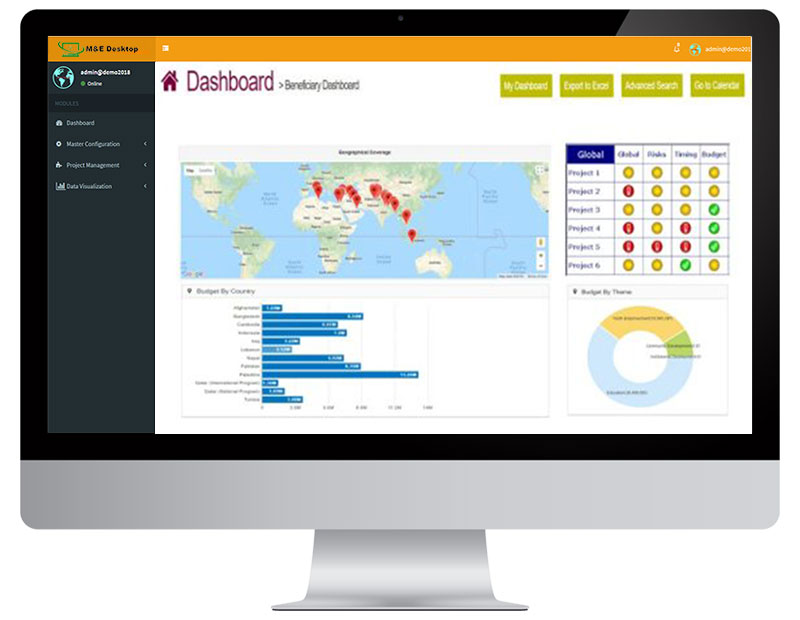 Intuitive and easy to learn.
M&E Desktop's simple and easy to use interface means you can start using the system from day.

Quick setup and easy to use interface mean faster returns on investment.
Desktop Based M&E Software Features
Easily add project details like start and end dates, project donors, budget for each donor, funds released, project milestones and project locations. Manage the entire project life cycle from inception through project monitoring and project progress tracking to end of project evaluations.
M&E Framework module to add the Results Framework or Logical Framework for detailed tracking of impact, goals, outcomes and outputs. A project M&E Framework can be added for each project and indicators can be tracked independently as well as aggregated for combined or comparative analysis.
Add a comprehensive and configurable activity workplan with milestones and target dates, along with individual budgets for each activity and enable users to submit a detailed activity report against each activity to track the progress against the workplan and inform of key attention areas.
Keep track of activity budgets, funds released and expenditure amounts with options for users to report expenditures against each activity. This module enables you to visualize the burn rate and indices like expenditure to released ratio and released to budget ratio.
A dynamic real time dashboard built with detailed charts and graphs, traffic lights and GIS maps with pin and polygon markers to help you quickly visualize the spread of the projects and the status of the indicators as well as activity workplan status and expenditure ratios.
The most powerful and flexible Report Builder engine with combination of multiple dynamic filters that can be applied to data with AND/OR operators to build custom queries easily through the graphical user interface and generate custom reports as required.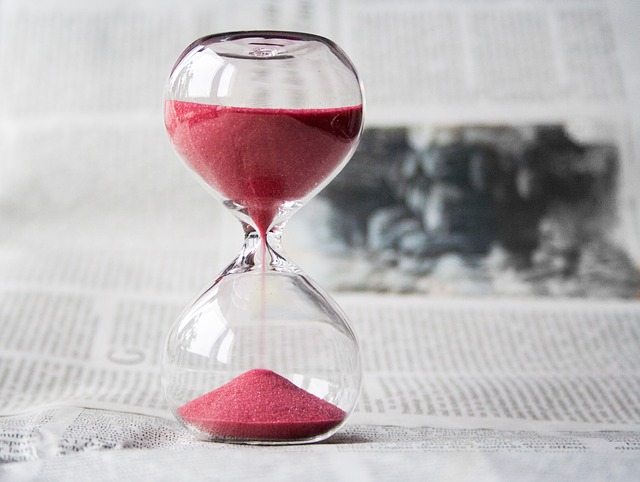 Quick Setup
M&E Desktop can be up and running in a matter of minutes. It's easy and intutive admin panel let's you add projects and users, and enter logframes and workplans in no time. Get value for your money fast.
Avoid long delays, expensive customization and increasing cost of customized packages. M&E Desktop is ready to use out of the box solution. Just sign up and start using offline Desktop Application.
Buy M&E Desktop Now
Get the all new M&E Desktop Today
When you running against time and need professional looking reports and dashboards.
Buy Now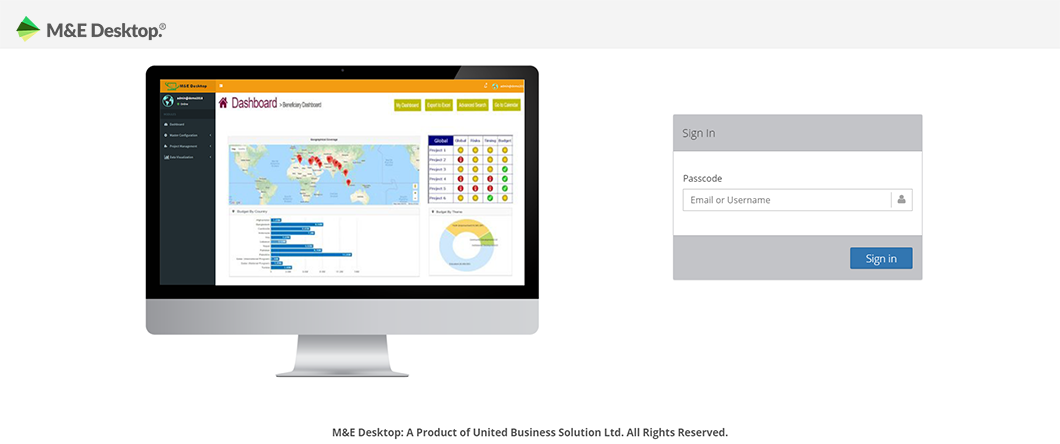 You're in a good hand
Many NGO around the world have already started using M&E Desktop.
The MIS has enabled free flow of information and tracking of beneficiaries from the field level to the country level.
The system enables the project to track progress of project indicators and milestones on dynamic dashboard.
For anyone interested in Online Program
Monitoring and Evaluation Systems, we
would recommend UBS for their quality and
easy to use system.
Subscribe to M&E Desktop
Hundreds of NGOs across 50+ Countries are already using
M&E Desktop to simplify their work.

Per Year
Billing Period:
Your Subscription Includes
Full access to M&E Desktop
1 Admin User (M&E Manager)
Single Project
Unlimited Reports
* 3 Years subscription includes one free online training session.
Review your subscription.
SN
Description
Amount
M&E Desktop Subscription
1
Period:

1

Year(s)
$

500.00

Add-ons
2
PDF User Manual: 1
Free
3
Online Training:

0

Session

Unit Price: $ 250.00 / Session

$ 0.00

Total Package Price
$

500.00
Frequently Asked Questions
Many NGO around the world have already made M&E Desktop the place where their daily job happens.
What is the process to start using M&E Desktop?
You have to follow 3 simple steps.
1. Select the plan (one year, two years or three years)
2. Make payment
3. Download and set up the system and add your projects to start using.
Will I get support of configuring the system?
Yes. A very easy and intuitive user manual which contains all the instructions with screenshots and images is available for download for all subscribers. For subscribers choosing the three-year plan, an online training session is available for free. If you have not chosen three-year plan, you can purchase online training session separately.
Is there a local partner to help me with setup?
Yes, we currently have partners in few countries to help our customers with setup and configuration. Please check the contact us page to search for a partner in your area.
Is there a trial period or trial offer?
We do not offer a trial period as we have kept the price very low, so you can choose to subscribe for one year and then decide if you want to continue the subscription.
Can I stop my subscription any time?
You can choose to not renew the subscription after the subscription period ends. For example, if you have chosen a one year package, the subscription will automatically stop if you do not opt to renew the subscription.
What is included in Online Training Session?
The online training session is a comprehensive 2 hour live training session delivered by the M&E Desktop trainer though web conferencing system with help of training videos, audio visual presentations and live audio question and answer session. All the doubts and questions are clarified by the M&E Desktop expert live during this training session. Online Training Session is available for free with three year subscription or can be purchased separately for other subscription periods.
Contact Us
Write to us for Demo, Sales Enquiry or any technical Query.